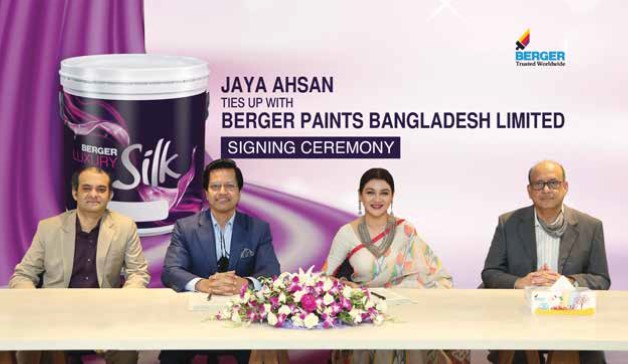 Eminent actress and model Jaya Ahsan has
officially
paired up as the ambassador for Berger Luxury Silk brand
. The celebrity graced an event held recently.
High officials from Berger were also present to announce Jaya Ahsan's association as the face of Berger's Luxury Silk product in various campaigns, and other promotional activities for the next 2 years
.
Mohsin Habib Chowdhury, Senior General Manager, Sales & Marketing, Berger Paints, AKM Sadeque Nawaj, General Manager, Marketing, Berger Paints, and Muneer Ahmed Khan, Chairman & Creative Chief, Unitrend Limited were present during the signing ceremony
.
Teaming with Berger, the popular actress is participating in various exciting campaigns and activities
. Hence, the popular Berger Luxury Silk brand will now gain an even better appeal to the customers.