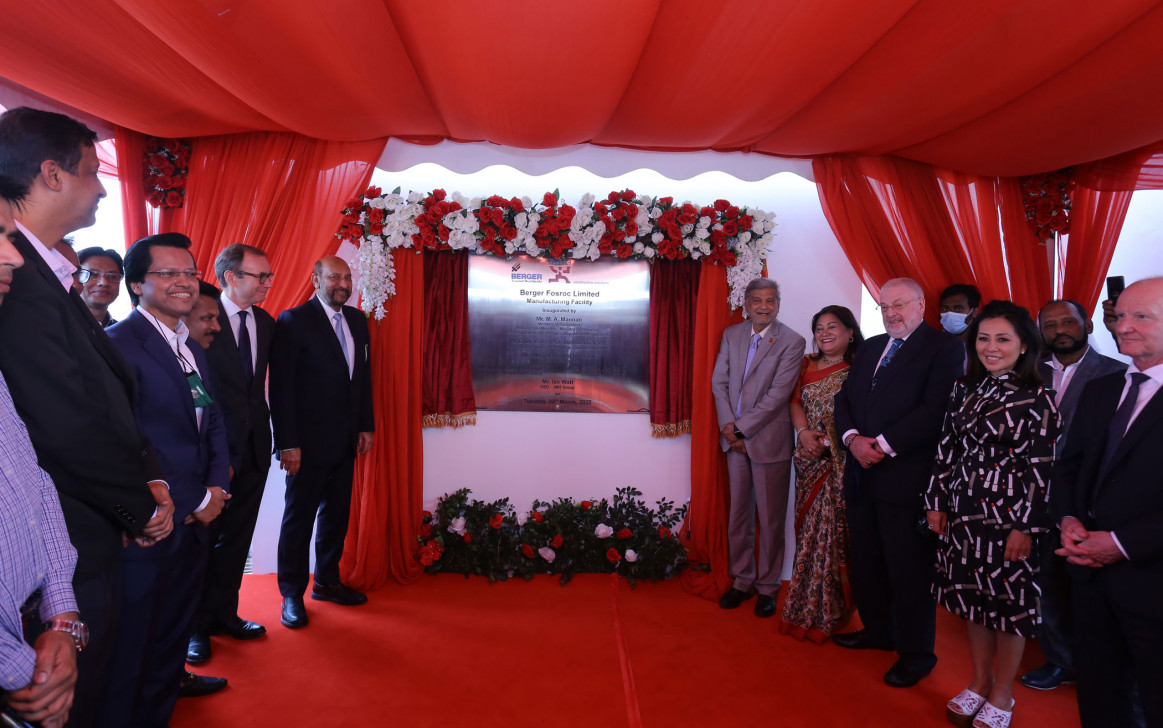 Berger Fosroc Ltd, a joint venture of Berger Paints Bangladesh and Fosroc International Ltd, yesterday opened a construction chemicals plant to cater for the growing domestic market for chemicals and cut import dependence.
The joint venture entity invested around Tk 100 crore (around $10.2 million) to build the plant, said Rupali Chowdhury, a director of Berger Fosroc Ltd.
The plant has been established at Narayanganj, a southeast industrial district adjoining Dhaka city.
Planning Minister MA Mannan inaugurated the plant while British High Commissioner to Bangladesh Robert Chatterton Dickson, Lawmaker Nazrul Islam Babu, Chairman of Berger Paints Group Kuldip Singh Dhingra, Chairman of JMH Group James M Hay and CEO of JMH Group Ian Watt were present, among others.
Also the managing director of Berger Paints Bangladesh Ltd, Chowdhury said the new products will provide a "superior construction solution" for durable and sustainable quality of infrastructure projects as consumers expect quality residences in line with economic development.
She said they will cater to every sector of the construction industry, specializing in solutions for building construction, industrial facilities, power plants and all types of transportation and civil infrastructure.
The products include industrial adhesives, admixtures, grinding aids and joint sealants while the services will encompass concrete repairs, industrial flooring, grouting and anchoring, surface treatment and waterproofing.
"We will start marking the new products soon," said Chowdhury, after the inauguration of the plant.
The company launches the plant at a time when the market for construction chemicals, namely adhesives, admixtures, grinding aids and joint sealants is expanding.
Currently, the annual market size of the items is over Tk 2,000 crore, which is half of around Tk 4,000 crore market for paints, according to industry insiders.
Planning Minister Mannan said, "With the increasing demand for infrastructure in Bangladesh, it is expected that the construction and other related industries will witness remarkable growth over the coming few years."
Kuldip Singh Dhingra said, "Berger has always focused on catering to the construction industry as much as possible while keeping the consumers' convenience in mind."
James M Hay said the new factory will help serve the construction chemical requirements of the country.